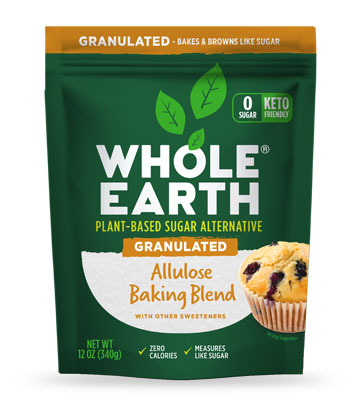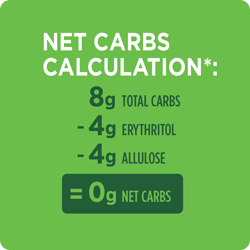 WHOLE EARTH ALLULOSE BAKING BLEND WITH OTHER SWEETENERS
Granulated Plant-based sugar alternative
We carefully selected each ingredient to create a plant-based sugar alternative that bakes and browns like sugar without the calories.
Allulose is a type of sweetener found in fruits such as figs and raisins, and helps make our blend very sugar-like when it comes to baking. Erythritol is a sugar alcohol found in fruits such as pears, melons and grapes. Both our allulose and erythritol are derived from corn, and while both ingredients are counted as carbohydrates in the nutrition table, neither impacts blood sugar significantly. The stevia & monk fruit extracts in our blend add sweetness to get the same 1:1 sweetness as sugar. We include xanthan gum in the blend to aid with texture, especially in gluten-free baking.
Available in a 12-oz re-sealable pouch.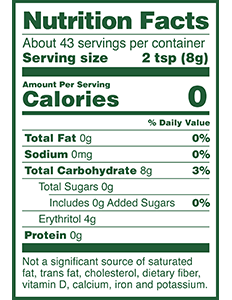 Ingredients
Allulose, Erythritol, Xanthan Gum, Stevia Leaf Extract, Monk Fruit Extract.
• Zero calories & sugar
• Bakes & browns like sugar
• Measures like sugar
• Sugar-like texture
• Keto friendly
• Zero net carbs
• Low glycemic index
*For more information on net carbs, click
here
Click edit button to change this code.
Explore recipes made with Whole Earth Sweetener products