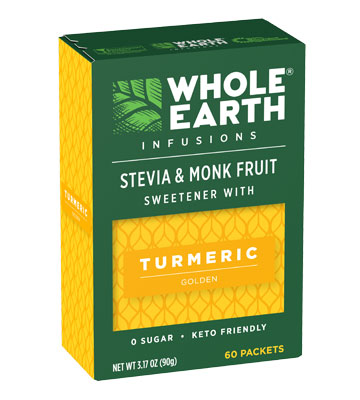 WHOLE EARTH INFUSIONS
STEVIA & MONK FRUIT SWEETENER WITH TURMERIC
Turmeric is a golden yellow spice ground from the roots of the turmeric plant. It is native to Southeast Asia and is a member of the ginger family. Historically, turmeric has been used for thousands of years in Asia as part of Ayurvedic medicine.
Our Whole Earth Golden sweetener blends stevia and monk fruit extracts with added turmeric for a flavorful twist. Add to your coffee, teas, smoothies, and more for a delightfully sweet and flavorful taste.
Contains 150 mg of turmeric per serving.
Available in a 60-count carton.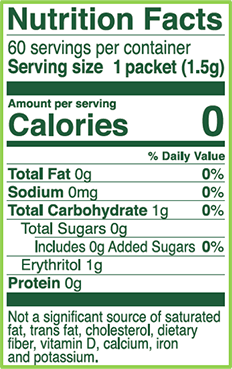 Ingredients
Erythritol, Turmeric, Stevia Leaf Extract, Black Pepper, Monk Fruit Extract.
• Zero calories & sugar
• Keto friendly
• Zero net carbs
• Low glycemic index
• Gluten Free
• No preservatives
Explore recipes made with Whole Earth Sweetener products