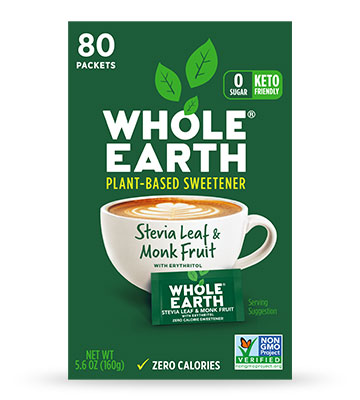 WHOLE EARTH STEVIA LEAF & MONK FRUIT WITH ERYTHRITOL
0 CALORIE SWEETENER PACKETS
A blend of the world's best sweeteners, this zero calorie product is made with stevia and monk fruit. It's the perfect addition to coffee, tea or your favorite beverage.
Available in 40, 80, and 400 count cartons.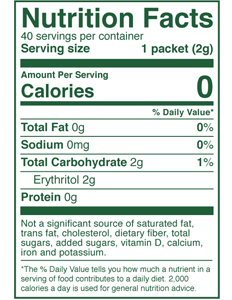 Ingredients
Erythritol, Stevia Leaf Extract, Natural Flavors, Monk Fruit Extract.
• Zero Sugar and Zero Calories
• Non-GMO Project Verified
• Gluten Free
• Low Glycemic Index
• No Preservatives
Visit our FAQs to find out more about Stevia & Monk Fruit packets.
Click edit button to change this code.
Explore recipes made with Whole Earth Sweetener products